When Loopholes Overtook Merlons
How We See Only a Tiny Bit of What's Really There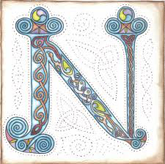 Imagine you are an archer in the service of a medieval castle in, say, the year 1100. You defend your castle from the topmost battlements.
From your position high above the ground you have an unrestricted view of the surrounding countryside. You see the enemy advance with its archers and siege engines.
When arrows and random projectiles started hurtling your way you duck behind a merlon and only step out from behind it to launch your own arrows.
And therein lay the problem: in order to do that you step into the line of fire. This, sadly, proved the end of many a castle archer.
Fast forward a hundred years when a new architectural feature hit the castle scene.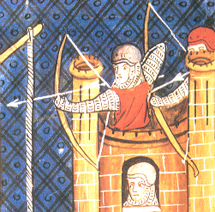 The feature was all about protecting the archers; it allowed them to launch arrows continuously while remaining safe and hidden.
Loopholes in Medieval Europe
This feature, called a loophole, first appeared in ancient Greece in the third century BCE but didn't find its way to Europe and England until the 12th century.
On the outside loopholes were as tall as a man but only as wide as his fist.
On the inside the slit flared into an opening or embrasure that could be many feet wide. This interior wedge of space gave the archer room to maneuver and launch arrows through the slit.
He could pivot his body to cover a tapering slice of land below, but only a very small area was visible at any given time.
Loopholes were long vertical apertures or windows in thick castle walls.
The benefit of the loophole was clear: it kept the archer safe from incoming arrows. But it had a downside: the view from any single loophole was at best extremely limited.
And therein lay the dilemma of the loophole: archers had to sacrifice visibility and flexibility in favor of safety.
What was given up when loopholes overtook merlons was the larger picture of what was going on outside the view from the loophole.
Loopholes and the Bureaucracy of the Brain
Human brains have their own version of the loophole dilemma, and it's literally built into our DNA. Survival of our distant forebears required that they be able to process just the right bits information at any given time.
Too much and important information would be buried in the deluge of sensory data. Individuals without this ability did not survive for long.
To handle this, early hominid brains developed a strategy that was so effective it lives on in us today. It is a circular system full of red tape. Out of the millions of bits of random data that enter our senses at any given instant, only the sensory information that fits the criteria for admittance into perception is allowed in.
The criteria have everything to do with what has direct and immediate relevance to the situation at hand. This information enters the brain through short term memory (short term memory is really that: it has a shelf-life of just seconds). Of that information, only lastingly relevant information is transferred to long term memory; the rest is discarded, lost forever.
Incoming sensory data is classified according to pre-existing patterns stored in the brain called organizing patterns.
This bureaucracy of the brain takes place within a system called organizing patterns, the real forces for survival. Organizing patterns are the brain mechanism though which all incoming sensory data is classified according to pre-existing patterns already stored in the brain.
Not only is all new information classified in this way, but these pre-existing organizing patterns are the only channels through which information can enter into memory.
These patterns allowed our forebears to react instantly to stimuli (Can I eat it? Can it eat me?) without having to go through a rigorous process of analysis of each new situation. Such a lengthy process would have greatly reduced the chances of eating and greatly increased those of being eaten!
Clear and Organized but Rarely Accurate or Complete
Like loopholes, organizing patterns did a lot for our chances of survival, but as with loopholes there was a price to pay. Organizing patterns gave us the ability to have a clear organized view of the world out of which we could make instantaneous decisions (clear and organized perhaps, but rarely accurate or complete).
What we sacrificed for this security was our ability to see a larger more diverse view of the world. We are literally stuck peering through our organizing patterns. It is a narrow field of vision, limited to the collective information already stored and organized in our brains.
In a circular process organizing patterns alter new information so that it fits into what we already believe. The altered new information in turn reinforces the organizing patterns, and round and round it goes. This becomes our whole world, our wedge of ground outside our loophole; it IS our reality, and nothing really new ever enters our cognition. Change tends to be restricted to a small window of comfort.
Lessons From the Loophole Dilemma
There are some lessons we can learn from the loophole dilemma. Loopholes teach us that what we believe to be fact is in reality a small and very limited view of what is actually there. We are limited by the existing constraints of our organizing patterns, and completely blind to the fact that we ARE limited.
We could also learn that when we think we are changing or acquiring new understandings, we are like the archer pivoting from side to side in his embrasure always within the loophole and always seeing just a tiny area.
In order to see a broader view we would need to leave the safety of our mental embrasures and inquire what might be out there that we haven't seen, the seeing of which might change everything.
Connect